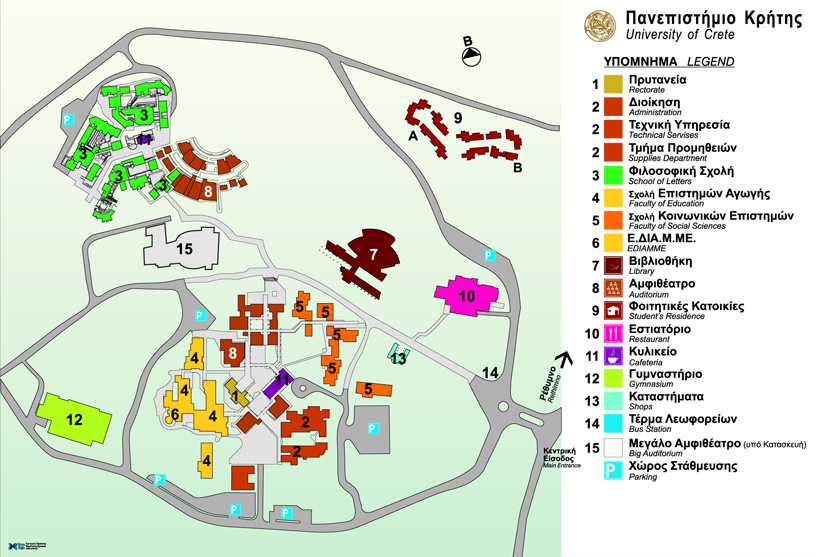 The University Campus, known as Gallos Campus, is located 5 km south of the town of Rethymnon, it covers an area of 150 hectares with rich and diverse plantation and can be easily reached by private car or public transportation. Gallos Campus is relatively new (built in late 1990s) and has all the facilities of a modern University Campus: library, computer center, a fitness center, restaurant, coffee shops, a mini-market, ATMs and plenty of open-air parking spaces.
How to visit us
By air: Heraklion and Chania airports have regularly scheduled flights to/from Athens throughout the year, and international flights are available April-November.
Airports can be reached via a taxi or public bus transportation. Bus service from both Heraklion and Chania to/from Rethymno runs on an hourly basis.
By sea: Heraklion and Chania (Souda Bay) ports have daily ferry connections to/from Piraeus/Crete. Both ports are serviced by ANEK-Superfast lines and MINOAN lines.
ANEK-Superfast lines
MINOAN lines
Bus service: The local and regional bus services in Crete are run by regional collectives known as Kino Tamio Eispraxeon Leoforion or KTEL.
KTEL Chania-Rethymno
KTEL Heraklion-Lasithi
Once you reach the bus station in Rethymno, you can use the shuttle bus or taxi to the University Gallos Campus.